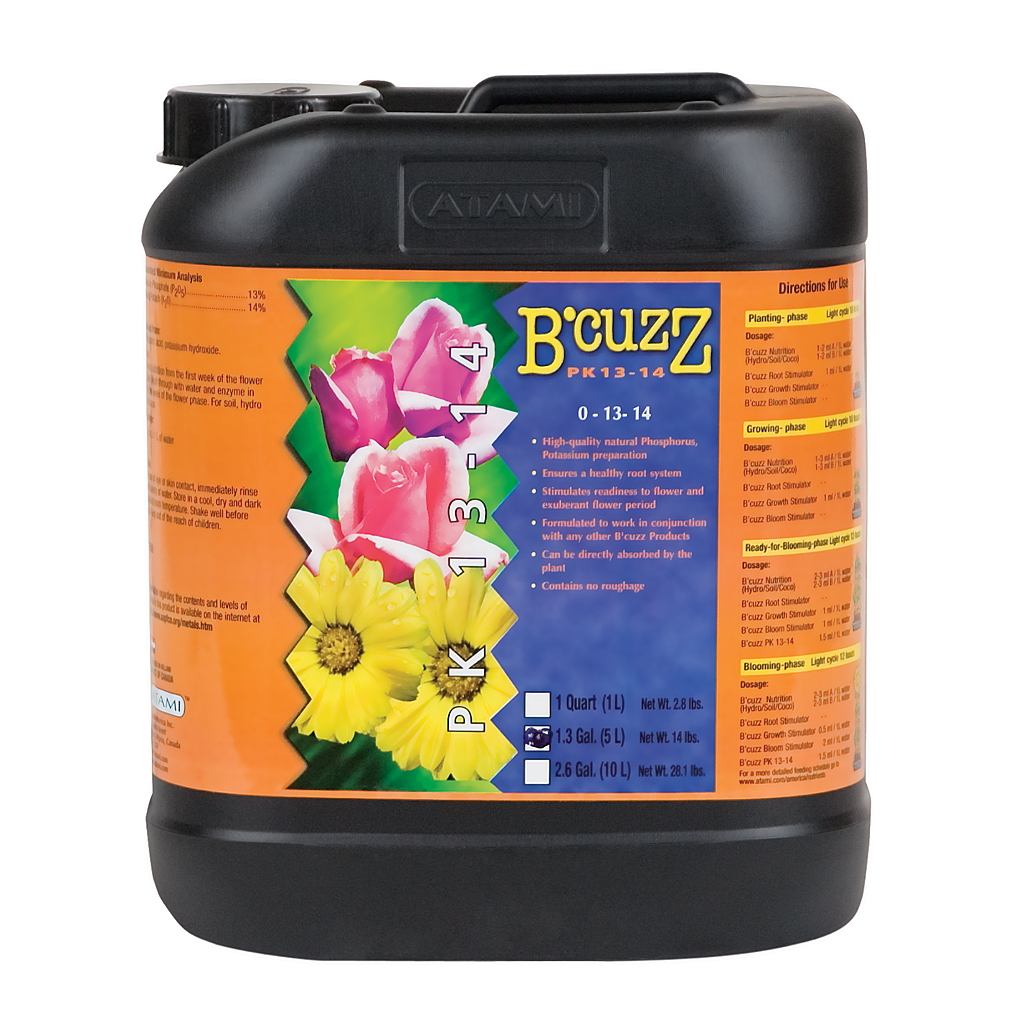 Bcuzz PK 13-14, 5 L
Get Hesi PK 13/14 10 Liter that contains healthy phosphorus and potassium which are vital for an effective plant growth.
With Hesi PK 13/14 10 Liter to support your plants, you will notice much better yields, crisp and luscious leaves and a healthy life. Once you get to know Mother Earth, she can be very inspiring and compatible especially when you understand what goes well with her. The fear of fertilizers/pesticides have made many indoor/commercial gardeners are turning to hydroponic system.
Hesi PK 13/14 10 Liter includes two vital ingredients that are necessary for plants growth – potassium and phosphorus which are available in good amount. It is mainly used during the flowering stage of plants. Best results when used with Hydro Bloom and Hesi Coco nutrients, Hesi PK 13/14 10 Liter helps the plants right from the roots to give you ripe and healthy yields without any hassles.
The phosphorus content in Hesi PK 13/14 10 Liter assists in converting the energy and making it a usable food for plants. When you are dealing with a phosphorus deficient plant, you will see a weary plant bearing low yield or absolutely no fruit at all.
Combining phosphorus with your water will aid the plants in proper photosynthesis and effective delivery of nutrients and energy to all areas of the plants. The phosphorus in Hesi PK 13/14 10 Liter delivers optimum results by provoking the plants to grow more than usual and enable early maturity.
The second ingredient Potassium in the Hesi PK 13/14 10 Liter is very much needed for plants so that you can harvest through out the year. Did you know that potassium is often termed as a macro-nutrient due to its high absorption level by plants. Potassium helps in maintaining the functions of the entire plant by "moving" the flow of nutrient filled water, carb in the tissue etc. and many more. When you incorporate the right mix of potassium, you can see for yourself that the plants are developed earlier than expected, the production of protein has risen thereby increasing the life cycle of your precious babies.


Hesi PK 13/14 10 Liter comes with around 13% of phosphorus and 14% of potassium and the recommended dosage is 2.5 ml to 10 liter of nutrient solution during the blooming phase. You can gradually increase the proportion to 15 ml to 10 liter nutrient filled water during the second to final week of flowering. Hesi PK 13/14 is available in different quantities such as 1 liter, 5 liter, 10 liter and so on. If you are in a dilemma about the product, choose the trial pack.
Summary
Author Rating
Brand Name
Product Name
Price
Product Availability