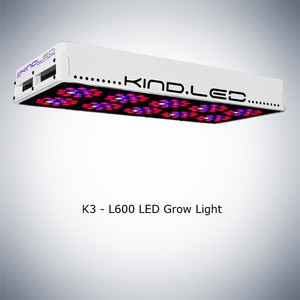 Kind K3 Series LED L600 Grow Lights
With K3 series Kind 600 watt led grow light or led plant light entering the hydroponic gardening arena, you will be getting only bigger yields at a rapid speed rate than you have ever imagined. With the kindest spectrum combined with powerful intensity, you will be getting an absolute crisp and fresh yields all year long without compromising on quality.
One look at the Kind 600 watt led grow light and you know its here to stay. The grow light comes with 3w x 150 diodes that come with a complete spectrum which is necessary to build denser plants with rich fruits/vegetables. With a footprint of 3′ x 4′, it is quite compact and fits to your grow tent easily. With Kind grow lights, you need not bother much about the additional equipments such as cooling systems, reflectors etc. as the grow light comes with internal cooling system and other respective tools such as aluminum heatsinks that makes the led panel absolutely cool to touch even when running thus giving it a good and prolonged life.
Usually, you will see many LED grow lights comes with 2-3 primary colors that just satisfy the need for photosynthesis and plant growth. But Kind 600 watt led grow light comes with a complete 12 band spectrum that gives you full lumens right from the seedling stage to the harvest stage of plant life so that each and every need of your plants such as effective nutrient supply, proper chlorophyll function, strengthening the stems/roots are supported by the grow lights. The result is a thicker and denser flowers/plants all year long.
Unlike HPS grow lights, Kind 600 watt led grow light consumes only 50% of the energy used by HPS grow lights. The low temperature in the grow room is ideal for your plants to grow easily without any disturbance. The grow lights are also equipped with UV rays that are even though invisible to the human eye still gives productive lumens to the plants thereby providing apt support to every need of your plants. The secondary optical lens that is affixed with the led panel widens the spectrum enabling deep penetration and expansion to all areas of your plants right from the corners of the grow room to deep areas of the plants. This will give the plants ample growth right from the roots that can be visible in the concluding results.
The Kind 600 watt led grow light has undergone fair amount of tests from PAR detector to the spectrometer that gave positive results that these led lights are much better than any other grow lights in the market. In fact, the company gives you a confirmed guarantee that you won't find a better product than these LED grow lights.

If all this is not enough, the Kind 600 watt led grow light comes with a three year warranty and a lifetime customer support for any technical or grow support you need.
Kind 600 watt led grow light reviews:
It is a true fact that these led grow lights are a bit on the expensive side but you cannot ignore the fact that they are best in the market and give you optimum results you always craved for. These led grow lights are one time investment that will not only give you good lifespan but think of all the money you will be saving on extra tools that are necessary when you are buying standard grow lights. There are many websites including the official website where real users put up their reviews regarding these grow lights. There are many who garden lovers who have used Kind 600 watt led grow light and frankly they are quite happy with the results. Need I say more?
Summary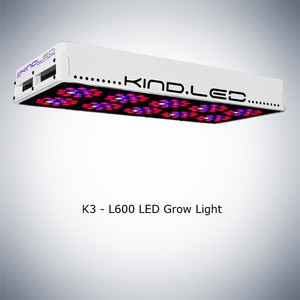 Author Rating
Brand Name
Product Name
Price
Product Availability