Kind K3 Series LED Grow Lights
One of the best performing LED plant lights in the market, Kind LED grow lights can really shoot your plants growth by giving you a full band spectrum that will result in some of the best herbage you can grow indoors.
The rise in LED grow lights has triggered many to move towards it although they are still pondering on two points (1) which is the best one in the market and (2) do they really need LED lights for their plants? Let's see, shall we?
It doesn't matter whether you are a beginner or an experienced person, LED grow lights are for everyone who are expecting best yields from their grow room. Yes, there are pros and cons that comes with Kind LED grow lights but without actually knowing the product, you can't be judgmental. I am giving some of the features that comes with Kind LED grow lights which will help you to know the product a little more and give you a nudge in taking a better decision. Without blabbering more, here are they.
Kind LED Grow Lights Pros
1. Spectrum – many people need spectrum and Kind LED grow lights gives you just that. Unlike 2-3 band spectrum seen in many grow lights, you will be getting a complete 12 band spectrum that matches with the wavelength of the plants thereby satisfying their every need.
You will also find secondary optical lens which is an additional feature of the Kind LED grow lights. This will give your plants the benefit by strengthening them from the bottom. The optical lens widens the spectrum and prevents any hot spots. It reaches all the corners of the grow room and doubles the lumens helping the plants to undergo good amount of photosynthesis and deliver rich, ripe and nutritious yields all year long.

2. Effective Cooling – If you are an experienced gardener and planning to make the switch from HID, CFL or fluorescent bulbs to LED grow lights, then you very well know the additional equipments that are required to sustain the cool environment in your grow room.
Kind LED grow lights does not need any additional fans to cool off the system unlike HID lights that needs additional cooling system to soothe the grow lights. The Kind LED grow lights come with inbuilt aluminum heatsinks, internal circulation fans that really tones down the energy built-up thereby preventing any mishaps and keeping the grow lights as efficient as possible.
3. Energy bills – one of the factors that makes people cautious is the energy bills. Now there are many grow lights in the market that claim to be 'cheap and effective' but reality is otherwise. They work only for a short duration and in that time blow up your energy bills like Mount Vesuvius.
Another thing to note is the fact that you will be saving a lot on the utility bills which is charged when you spend on the extra fittings that are necessary for your grow lights such as reflectors, cooling fans etc. When you have your own Kind LED grow lights indoors, it takes only 50% of the full energy that is consumed by other cheap grow lights. Need I say more?
4. Yields – The Kind LED grow lights grow with 3 watt diodes that are by far the most superior you have seen in the market. These light emitting diodes carry out proper method of photosynthesis so that the plants are compatible with the wavelength of the spectrum delivered by the LED grow lights. The complete 12 band spectrum that comes with UV and infrared rays cannot be tracked via naked eye but the fact remains they exist and help the plants deliver robust herbage in the years to come. Since the grow lights are warm, the temperature is balanced without much overheat which is ideal for plant growth. The result is a happy herbage with rich harvest in the years to come.
Kind LED Grow Lights Cons
The only downside is the price as Kind LED grow lights that lean on the expensive side. This makes many of the gardeners shrug off as they simply can't afford it. But you need to see the bigger picture here. When it comes to Kind LED grow lights, it is an one time investment that will help you to grow plants for a prolonged life. Unlike grow bulbs that needs frequent changes, the Kind LED grow lights stay intact and durable for a good period without lowering your yield results.
The Kind LED grow lights come with 90 day money back guarantee which means you can test it out for yourself. If at all you are not satisfied, simply return the money and you will get your money absolutely back.
Kind LED grow lights reviews
Many people have started using these products either as a support system along with their HID lights but to be honest, but if you are planning to make the switch or just starting out with your new indoor gardening, then look no further as Kind LED grow lights can really produce double the yields.
Summary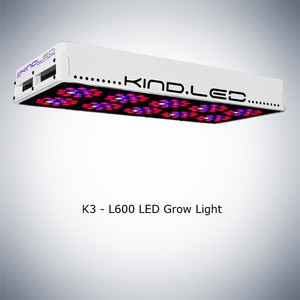 Author Rating
Brand Name
Product Name
Price
Product Availability